We Cub fans have seen it all this season: Wild pitches, passed balls, errors, picked off baserunners, overslid bags, missed bags, failed sac bunts, etc., etc. Heck, Cub pitchers are already leading the Central in walks!
The Cubs aren't going to get anywhere with such poor fundamental play. But perhaps we should take solace in knowing that the current situation...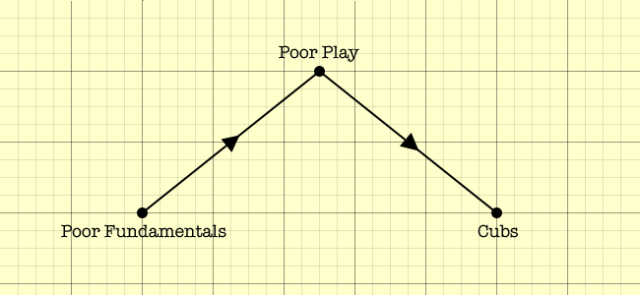 ... can't really get much worse. Last place is last place no matter how bad the record. (The funny thing about the diagram: History says it can easily be read right to left. Yes, it's sad, I know.)
Bullpen and hitting woes aside, the Cubs' real problem is in the fundamentals. Lou Piniella promised a fundamentally sound club, and it's nice to know he's at least trying to make good on his word by bringing in Bobby Dernier:
Only three weeks into the season, manager Lou Piniella ordered the extra work after baserunning mistakes have proven costly. The sessions with Bob Dernier, the Cubs' base-running coordinator, are starting with ''the guys who can run a little better,'' Piniella said, including Ronny Cedeno, Matt Murton, Ryan Theriot and rookie Felix Pie. Murton, Cedeno and Theriot also have had slip-ups on the bases.

''We'll have base-running drills every day on the homestand,'' Piniella said. ''It wins ballgames for you, and we need improvement.
But only if Piniella and his staff make good on their promise will the team have a chance at October. The players will hit, but it won't do much good if they can't run the bases, field the ball, throw strikes, or just generally play smart ball. Even Matt Murton, supposedly a smart player on the diamond, has fallen prey.
The problem is there. Whether or not it's fixable has yet to be determined...